Wick-it the Instigator is a DJ/Producer from Nashville, TN, and has been performing and producing since around 2004. His roots are in hip hop/turntablism, but in the last couple years, electronic music has vastly made its way into his repertoire as well. Wick-it is all about the party, and despite the style or approach with each individual track, serious crowd rocking fun is the goal.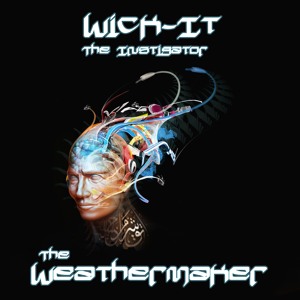 If your musical taste and history is the same as mine, then that biography is exactly what you would like to read before diving in to a dubstep EP. It seems the genre's new-found popularity has attracted dozens of hip hop, drum & bass, electro, house and even pop stars with its vibe tempo and subsonic basslines. As a 20 year old who grew up on the Chronic 2001 and Eminem's classic LPs, I prefer a background in hip hop to the aforementioned genres.
With "The Weathermaker EP", Wick-it displays all aspects of his background over a series of whomping woofers. The opening track sets the mood for the next four tracks, both lyrically and musically. The Instigator's carefully picked sample urges you to "Twist another sweet and vibe to the beat"… an action more easily executed in the comfort of your home than throwing your hands in the air or dancing like a headless chicken.
The next track would then be meant for you to finish that swisher up and enjoy your high. "Grey Sky" featuring Heather Jones is sure to be the first time music enthusiasts have heard of the the young songstress, but hopefully not the last. Her soulful vocals are perfect for Wick-it's dreamy, almost jazzy, dubby backdrop. Comparable to the "Eyes on Fire" remix by Zeds Dead, this is a track you could play without your grandma feeling like she was being attacked by aliens.
"Slanky" continues on that vibe, but kicks it up just a notch. This is more along the lines of mim0sa or Minnesota than Datsik or Excision. It is meant to evoke emotion more than entice moshing. The following track, however, kicks it up a couple more notches.
Getting back to his old ways, the Instigator hits us with a FIRE mash-up. "Gucci Gurrl" has swag written all over it. With Gucci Mane samples and a chorus worthy of a Kanye West production. This song, more than any of the others, exposes Wick-it's past more than any other track on the EP.
He ends the EP on a high note, with the most energetic track on the EP. While not getting away from the soul that peppers the rest of the tracks, Wick-it throws in a handful of hyphy samples that are more prone for that 1am slot in the club.
What we're left with is the counterpart to his "Grindhouse Basterds" project. While that record was covered in uptempo beats and full hip hop verses, this EP is a little more stripped down. With the back-to-basics style, Wick-it delivered a handful of tracks that aren't quite like his previous works. If continuous progress is the name of the game, our boy Wick-it the Instigator is playing. And playing it well.
You can download "The Weathermaker" EP for FREE by heading over to Wick-it the Instigator's SoundCloud.